Breaking Through
Better late than never, amirite?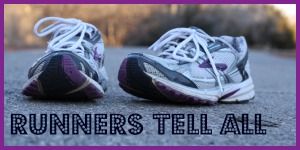 Today's prompt for the Runners Tell All linkup is "
most memorable running experience
."
This is hard to qualify. What makes something the "most" memorable? I don't know. I remember a lot of things, and almost every landmark experience in my running journey, which I'm just shy of 10 months into. That's on purpose: I document things. I do this because I always want to remember the big moments — and especially the little ones that don't seem all that big until you try to look back on them years later.
I remember the first time I ran any distance without stopping to walk. It was 1.5 miles and "my trainer" (a.k.a. former running buddy, the guy who helped me run my first steps on December 26, 2013) and I were ecstatic at the end of it. Until then, I'd have to stop a few minutes in every time we struck out.
I remember
my first race
. I remember my first five-miler. I remember my
first 10-miler
. I remember my
5k PR
.
But one running moment I look back on so often, particularly when I'm running and my legs feel like they're carrying the weight of the world, or when I'm running into the wind that won't relent, or when I almost stay inside because it looks like it might drizzle, is the first time I ran three miles.
It was January 26, a Sunday. It was late in the afternoon and my trainer came to my hilly old neighborhood for this run. We mapped out a route on the main road, which rises and falls in decent-sized hills like a camelback. Feeling daring — I'm not sure why — and determined, we mapped a three-mile out-and-back course. The longest I'd run to this point was just a little over two miles.
It should be noted that when I first started running, exactly one month earlier, I didn't think I would ever be able to run three miles. My trainer wanted me to sign up for a February/March 5k to keep me motivated; I laughed in his face.
We set out and the snow followed right away. The wind wouldn't give us a break. We made it out to the turn-around, me trucking along at a 11:30 pace, ready to give up around mile two as he charged up the hill. He started to
tell me a story
to distract me from how cold my face was and that my fingertips were starting to go numb. I begged for a break.
He told me I would get one rest for the whole run — we were already halfway through! — and to use it wisely. I was tempted to use it then and there, but we were about to reach the top of the hill. I know I'd recharge a bit on the downhill and wanted to save my rest, if I needed it, for the next uphill.
Soon enough we were passing the big white planter in front of my old apartment that always indicated the end of a run, and I ran right through that line. I hadn't stopped once. On the course I'd never run before, the hilliest one we could find, with snow and wind whipping into my face the whole way, I'd just run my longest distance, hadn't stopped once, and hit a mile mark one month into running that I was sure would take me a lifetime to reach. I didn't stop smiling for days. My trainer was so proud of me, and I was pretty damn pleased with myself too, if I do say so. It was a small achievement in number, but a huge one in every other respect.
This time next week, I'll have run a half marathon. Thanks to some unrelenting chaos over the last few weeks, I've pretty much blown my training plan. I've trained up to 10 miles (which everyone seems to say is "all you need" to run 13.1) and have felt strong in my long runs. I'm nervous and wavering in my confidence. But I know how to pace myself, fuel myself, and forgive myself (sometimes). And even though the length of this race is more than quadruple the distance I ran on January 26, I know that on race day I'll use that oh-so-memorable running moment to motivate myself. All the way to 13.1.
____________________________________
Speaking of next week, don't forget that Tuesday, October 28 will be the last Tuesday of the month! That means it's time to link up your training goals, progress, success stories, questions, and tales of woe with
Tracy
and me on
Training for Tuesday
! ICYMI, here are the
Guidelines for Harmonious Linking
. Grab a button and share your training stories about your yoga practice, lifting regimen, next race or triathlon, attempt to touch your toes and anything and everything in between!
Are you in?