Winter Reading Challenge: My List
I'm guessing many of you are book lovers, read blogs by book lovers, and are generally familiar with books and reading as concepts. So I'll spare you a long-winded introduction about my 25-year-long love affair with literature (which should be abundantly apparent given that I have a degree in English and work as a writer and literary editor) and just move along to the point.
The second I heard from
Kristen
that
Megan
would be hosting another
book challenge
to last us through winter 2014-15, I was pretty sold. You may know that I'm
working my way through
the Harry Potter series (for the first time), and when I'm done, I'll obviously need something new to read. I have
lists on lists
on
lists
, with no rhyme or reason, which can sometimes make it hard to narrow down the titles and pick something new to read. And on the success of this latest adventure with Harry Potter, I want to try to broaden my horizons again and reach out beyond my typical genre. What better way to do it than with a reading challenge?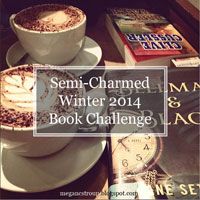 Here are the rules
for the reading challenge, and here are my picks to be read from
12:00 a.m. November 1 — 11:59 p.m. February 28
:
5 points:
Freebie! Read any book that fits the general rules.
Leaving Time
— Jodi Picoult (416 pages)
Usually I buy Jodi's books the day they come out (and read them within the first 18 hours) but this year I was really determined to finish the HP series for the first time in one sitting. I can't wait to finally read this book that is supposed to be amazing, as all her novels are!
10 points:
Read a book written by an author who has published at least 10 books.
Harry Potter & the Deathly Hallows
— J.K. Rowling (759 pages)
I'm anticipating the timeline working out so that I'm finishing the HP series in November, so why not start the challenge off by finally finishing up?


10 points:
Read a book of short stories.
Naked
— David Sedaris (291 pages)
I just love this dude. This will be a re-read (three are allowed) but since I forget whatever I haven't memorized, it should be like new.
10 points:
Read a book with a food in the title.
The Ginger Man
— J.P. Donleavy (352 pages)
This title's on the MLA top 100, another list I'm trying to work through before I go blind.
15 points:
Read the first book in a series that is new to you (so no rereads for this one!).
Vision in White
(Bride Quartet Series, book 1) — Nora Roberts (325 pages)
I've never read a single Nora Roberts book — I know, lunacy. This series has been on my list, so I'm looking forward to getting through it!
15 points:
Read a book that was originally written in a language that is not your native language.
One Hundred Years of Solitude
— Gabriel Garcia Marquez, Gregory Rabassa (translator) (457 pages)
I think I was supposed to have read this in high school, but my senior English teacher was retiring at the end of the year and was pretty much out the door the whole time. I've been dying to get to this one — it's been waiting patiently on my bookshelf for ages.
15 points:
Read a book written by a local author (either an author from your state if you live in the United States, or from your country if you live somewhere else).
Jessica Darling's IT List
— Megan McCafferty (223 pages)
I've been a huge fan of Megan McCafferty (a Princeton, NJ native!) ever since I first picked up Sloppy Firsts as an eighth-grader. I grew up with Jess and idolized Megan, reading everything she's written up until this book. It's a middle-grade YA novel (YA FOREVER!), a prequel to the Jessica Darling series I love so, so much, but if I know Megan as an author (and I think I do) it's just as suitable for a twenty-(or even thirty-)something as it is for a tween. I don't know why it's taken me so long to get to this one since it's been at the top of my list since before it was published, but it'll be a great winter read, along with its sequel, I'm sure.
20 points:
Read a "bookish book" (in which books play an important role, e.g. the setting involves a bookstore or library, a major character is an author, or a book that celebrates reading and books. Examples: The Book Thief, The Shadow of the Wind, The Thirteenth Tale, etc.)
The Book Thief
— Markus Zusak (552 pages)
I've heard such amazing things about this novel, I can't wait to see for myself.
20 points:
Read a book with a direction in the title (e.g. north, south, east, west or any combination of those).
East is East
— T.C. Boyle (384 pages)
This isn't one I'd heard of before I did some searching for this challenge, actually. But the whole point is to discover new titles, isn't it? Fingers crossed!
25 points:
Read a book from a genre you don't usually read.
Gone Girl
— Gillian Flynn (560 pages)
I don't think I've ever read a book (at least not the whole way through) that classified as a thriller. It's not my style, but I've had plenty of non-thriller-readers vouch for this one and it's time I hopped on the bandwagon, I think.
25 points:
Read a book with a song lyric in the title. Be sure to tell us the song name and artist as well!
Yes Please
— Amy Poehler (288 pages)
I think Amy is just wonderful and have been looking forward to this book since I heard about it months ago. I can't wait to see what she has to say. (Song connection: Yes Please by Muse)
30 points:
Read two books with a different meal in each title (e.g. breakfast, lunch, dinner, supper, brunch).
Naked Lunch
— William S. Burroughs (289 pages)
About time I get around to this one, I think!
This will be a re-read, but considering I don't remember it (or anything if it's been more than six months since I read/watched it, unless I have it memorized) it'll be like new. Vonnegut is one of my favorites, and all I do remember of this title is that I found it excellent.
What are you reading? Anything interesting on your list for winter reads? Are you joining the challenge too? I'm always looking for more titles to put on my never-ending lists...