Back to Normal
And on the third day,
Melissa
said, "We shall confess." And it was good.
______________________________
Tracy
was here this weekend and it was awesome and we had a blast and now she's gone and I have to go be a human at work again and that's not as much fun.
I fell down on the blogging job whilst entertaining my guest with multiple pizzas and drinks and Princeton and New York, but I managed to get a post up on
Sunday
at least, which must be worth something. Even if it was a post that basically writes itself throughout the course of the week.
Oh right, that multiple pizzas thing. I ate pizza for dinner Saturday and Sunday. Don't care. (If you're ever in NYC, get yoself some
Artichoke Pizza
. There is no substitute and there is nothing like it.)
The 10-day Instagram yoga challenge I was participating in since the New Year is over and I feel like I don't know how to Insta anymore. Please help me. What do I post? Can I just keep posting snoga pictures? Because that was fun.
GUESS WHAT DAY IT IS. AGAIN. (Chiropractor day.) After today I'll go back to pushing out our sessions to every two weeks, as it was before my car accident in the fall, in hopes of managing to get back to every three weeks soon after that. While I'll be happy to be healing and in less pain, I don't really ever want to go more than like a few days without seeing my chiropractor. Because it feels good and I'm pathetically involved in this schoolgirl crush thing. OH WELL.
I had a dinner date last night, and based on the last year of my life, I'm feeling it best to leave it at that for now and not add any more details. But the part of me that just never shuts up and has no sense of privacy (when it comes to certain matters) wants to talk more about it because, well, I just like to talk. But I'm refraining. But I'll probably spill every last detail to the first commenter who asks for it. YOLO! (Am I doing that right?)
I was charged $5 in fees that I wasn't expecting (on top of the $2 ATM charge and criminal $7 parking (for roughly 8 minutes) fee that I was expecting) in a parking garage over the weekend and when I saw those on my bank statement yesterday morning I immediately started wondering who I could call and yell at about them. Because I've apparently become both of my parents and one of my stepparents already.
I went into 2015 thinking I would focus my racing on bigger races this year, as opposed to many races. I'm already registered for two semi-biggies, will register for a small-ish one as soon as it opens, and am waiting on registration to open on a semi- to very-big one.... which doesn't even address the five others I have on a list that I want to run and have no concrete plans of cutting any one of them from my 2015 list. So much for that.
Thank god for this linkup because guess who has two thumbs and zero posts prepared and left herself next to no time to be brilliantly creative this week? (Me, in case you didn't get the joke. It's okay. It's humpday.)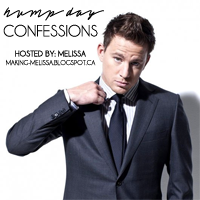 Speaking of humpday, you owe it to the world and to blogland. Whatchu confessing today?