Redux
Happy first humpday of 2015, y'all. Very, very, happy. I need a minute.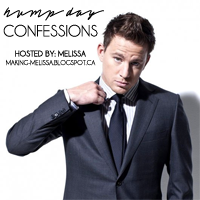 Oof. Okay, I think I'm ready. SO. As many of my blogging brethren know by now, Kathy has laid her blog and everybody's favorite linkup, Humpday Confessions, to rest. And we sobbed and sobbed and mourned and mourned. But luckily, the torch has been passed onto our very own
Melissa
and our new humpday man candy has been revealed and now we have a place to confess and once again all is
sexy
right in bloglandia. Without further ado, the first confessions of the new year...
+ Since roughly 43% of bloglandia is working on or working with a capsule wardrobe, it was only a matter of time before the fever got me too. The thing is, I like to think I'm pretty good about keeping my wardrobe under control. I go through at least every other month and come out with a bag of clothes to donate or sell. But I started thinking about what I could stand to part with and I went through my closet in another big purge Monday night in preparation for building a capsule-
ish
wardrobe.
+ That idea lasted me only as long as it took to realize I have more than 10 pairs of patterned leggings that I wear to work and everywhere else in my life and they definitely aren't suitable for a capsule wardrobe and so I just came up with another bag of clothes (23 tops and bottoms, one pair of shoes) to donate instead and ditched the capsule-
ish
idea.
+ My sweeter-than-pie friend
Kristen
gave me these yoga socks (sticky on the bottoms!) for Christmas and I was chilled yesterday so I put them on for my evening practice. And then left them on because I liked them. And then left them on way too long because I'm pretty sure I actually lost some circulation in my toes by the time they came off.
+ I have done pathetically little else with my life since
Friends
arrived on Netflix. (See my guide for seasons 1-5
here
! Seasons 6-10 coming soon.) I know every episode backward and forward, can quote the dialogue on command, and yet I can't tear myself away until I've gone through every episode. It's a problem.
+ If you got a comment from me yesterday between 10 a.m. and noon, it was made while I was on a conference call. Oops.
+ I just made Channing Tatum bigger than Melissa's button originally did because I felt I wasn't doing him justice and he deserves much more real estate on this post.
+ My photographer for yesterday's #BadYogisDoIt Instagram challenge was my coworker, who got it into her head that we had to take the shot outside our office... in the snow. I gotta say, I actually quite like the
finished product
, but also this outtake from when she decided to "get artsy."
+ I'm currently in the midst of planning a trip so far in the future Southwest doesn't even have flight information available for that month yet. Type A much? I've got my Airbnb stops picked out already and am minutes away from adding them on Facebook and laying the groundwork to become BFFs.
+ Today's my first visit to the chiropractor aka Dr. Magic since
before Christmas
aaaaaand I should probably be ashamed at how happy I am to see a
physician
but I'm so not and I don't care one bit.
+ I love you all — really, I do, I adore you to pieces — but I'm so glad we're all done recapping 2014 and listing our 2015 resolutions. I understand my own contributions to this phenomenon but I'm still so glad it's over and we can get back to our regularly scheduled programming.
Welcome back to our world, Humpday Confessions. I'm pretty sure it's safe to say we all missed you more than a reasonable amount.