Top 10 Best "Friends," Part I
As everyone and their mother knows at this point, Netflix has finally shaped up and all 10 seasons of the world's greatest show EVER are available for streaming.
Friends
has arrived! Like any good die-hard fan I'm streaming the series start to finish, because even though I've seen every episode roughly one jillion times, it's still laugh-out-loud funny, heartwarming, and fun to watch.
In celebration of the arrival of
Friends
on Netflix, I've decided to put together a handy guide for the casual viewer, a highlight reel for the busy non-binge watcher. I started out listing the top 10 episodes, one from each season, but no. That's impossible. Narrowing it down to 10 for each half of the series was hard enough! But here are my favorite episodes from the first five seasons of
Friends
. Consider every single other episode tied in the runner-up position. (I just stupid love this show.)
S1E13: The One with the Boobies
Phoebe's therapist boyfriend falls out of favor with the friends after getting too shrinky, Joey's dad comes to visit and so does a surprise guest, Chandler sees Rachel's boobies and a score-settling battle ensues.
Rachel looks for a new job, and the guys let the girls in on their poker game. Side note: This is one of my top three favorite episodes of the entire series.
S3E2: The One Where No One's Ready
It starts at 8 and they can't be late but Joey and Chandler are fighting about the essence, Phoebe's got the hummus, Monica needs to know if it's old or new, and Rachel just wants to look nice for Ross. Side note: this is another of my top three favorite episodes of the entire series.
S3E9: The One with the Football
Monica and Ross disobey their parents' long-standing decree that they aren't allowed to play football, and hilarity ensues as Phoebe plays her own game, Rachel shockingly is picked last, and Joey and Chandler fight over a leggy blonde.
S4E1: The One with the Jellyfish
What the hell happened on that beach?
S4E8: The One with Chandler in a Box
The friends give Monica a hard time for heart-eye emoji-ing over Richard's son, but she doesn't care because Ross married a lesbian, Rachel left a guy at the alter, Phoebe fell in love with a gay ice dancer, Joey threw a girl's wooden leg in a fire, and Chandler's living in a box.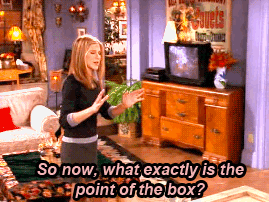 S4E12: The One with the Embryos
Chandler and Joey bet Monica and Rachel that the guys know the girls better than the girls know the guys, and Ross gets to referee. Phoebe misses quiz day because she's off doing a favor for her brother and sister-in-law. Side note: this is the last of my top three favorite episodes of the entire series.
S4E17: The One with the Free Porn
Super-fertile Phoebe gets good/bad news, Ross lives out Monica's foreigner fantasy, Rachel's got a new man, and Joey and Chandler have free porn.
S5E2: The One with All the Kissing
Rachel's back from Greece and gives Monica control over her dating life, Chandler and Monica are keeping a secret, a manic Ross is trying to get Emily to talk to him, and Phoebe's feeling left out after the other five had a blast in London.
S5E5: The One With the Kips
Monica and Chandler can't keep a secret secret for much longer, Ross reaches a crossroads that leaves Rachel in a tough spot, Phoebe and Rachel make plans for the future.
Honorable Mentions:
S1E4: The One with George Stephanopoulos
S2E5: The One with Five Steaks and an Eggplant
S2E14: The One with the Prom Video
S3E13: The One Where Monica and Richard Are Just Friends
S5E14: The One Where Everybody Finds Out
Fellow Friends fans, what's your favorite episode of the first half? Are you a hop-arounder or a binge-watcher?