Top 10 Best "Friends," Part II
In celebration of the greatest TV series of all time finally arriving on Netflix this year, I gave you
this countdown
of the top 10 best episodes from the first five seasons. As promised, I'm back with a follow-up, picking out my top 10 episodes from seasons six through 10 and, guys, I gotta tell you, this was damn near impossible. Picking just a few episodes from each season was more challenging than I thought it would be. This show is just. so. good.
But I did my very best, so here you have 'em:
(PS: Spoilers ahead, if you're working through the series for the first time!)
S6E10: The One with the Routine
Monica and Ross dance the gang into the New Year, Joey has a crush, Rachel and Phoebe search for their Christmas presents and Chandler gets in their way.
S6E24/25: The One with the Proposal
(Syndication breaks this up into two episodes, but it aired as one and I can't choose so deal with it.)
Chandler tries to pull a fast one on Monica, who runs into Richard at a few inopportune moments, Joey makes an accidental investment, Ross makes a decision in his relationship.
S7E4: The One with Rachel's Assistant
Ross, Monica, and Chandler go head to head, Joey gets an opportunity, and Rachel gets a new office decoration. (
Ed. note: This episode is just one hilarious line after another for me, so many funnies.
)
S7E9: The One with All the Candy
Ross rights a wrong from Phoebe's past (
in one of the sweetest episode plot-lines of the whole series and a rare tender interaction between these two
), Rachel hides a secret, Monica tries to appease the neighbors with candy.
S7E16: The One with the Truth About London
Rachel teaches Ross's son a few things, Chandler and Monica look for a minster to marry them, and Phoebe lets a secret slip.
S8E4: The One with the Videotape
The truth about Ross and Rachel's night together comes out, with proof.
S8E18: The One in Massapequa
Phoebe dates Alec Baldwin (
in one of my favorite roles of his, EVER
), Ross and Rachel put on a show, and the friends head to Long Island for a party.
S9E5: The One with Phoebe's Birthday Dinner
Phoebe just wants to celebrate her birthday but Ross and Rachel are preoccupied with Emma and Chandler and Monica have their own issues, and Joey's not in the mood to wait.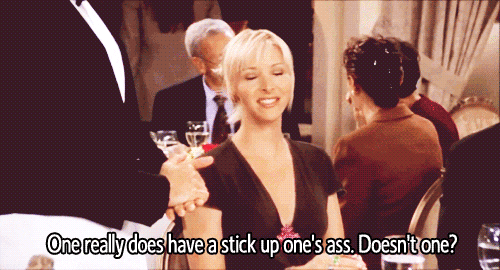 S10E12: The One with Phoebe's Wedding
Monica isn't an easy Matron of Honor and Ross and Chandler force Rachel to make a tough choice, but in the sweetest Phoebe-centric episode of the series, she and Mike get hitched.
S10E19/20: The Last One
I'm still not ready to talk about it.
(Ed. note: I honestly teared up searching for this image. Best show ever.)