Blogging is Stupid
I'm struggling to post on what's on my mind, so I'm just giving it the old college try here. Bear with me.
It has recently been brought to my attention that blogging is stupid.
Did you know that, friends? Blogging is stupid. I guess we should all just pack it up and call it a day, right?
Blogging is stupid because it's just people talking about their lives.
Aside from the very obvious fact that that's not true—blogging is so, so much more than just people talking about their lives—I have to wonder if there's something wrong with that.
Some blogs are about politics. Some share weight-loss and fitness advice and tips and wisdom. Some share wedding details and wedding-planning help. Some feature the latest fashion trends and help readers feel confident and comfortable in their clothes and skin. Some blogs revolve around food, and share recipes that run the gamut from homestyle comfort dishes to unique and out-there flavors to excite the senses. Some blogs explore important topics like religion, feminism, legislative developments, social justice, charitable endeavors, activism, and so, so, so much more.
But some people blog about their lives. Some blogs talk about the writer's personal interests and beliefs and ideas and hobbies. Like this one, and like all the others I enjoy reading most.
So what's wrong with bloggers talking about their lives? What's wrong with a person taking to a public, shareable Internet space to talk to other people who choose to read what they have to say?
What makes blogging any different than a group of friends having a conversation?
Aside, of course, from the fact that most conversations I have aren't nearly as well-researched as some blog posts. They also don't include gifs, and let's be real, we all love gifs.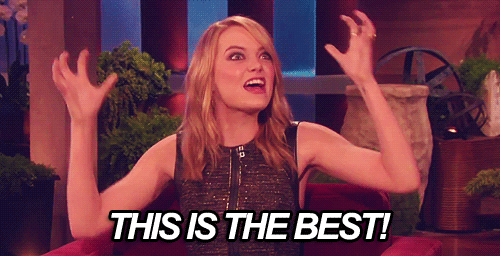 Conversations don't carefully organize important or valuable information that people like to hear about and share it in a place that can be easily referenced again in the future. But I guess there's no merit in that at all, because a person talking about his or her life is stupid.
Blogging is stupid because it's exclusively people talking about themselves and not letting their merits stand on their own. This is what I learned this weekend.
Wait, what?
I'm having so much trouble responding to that "argument" because I really don't know where to start. Do we bloggers show up to our Compose screens every day talking about the latest way we were awesome and admirable and urge other people to call us great? Um...no, we don't. And anyone with any familiarity with what we bloggers do in our spaces would know that, right?
But sharing our "merits"—again, what? Sometimes we share our accomplishments with people who care about us and who have been cheering us on. Sometimes we talk about our beliefs in a way that is meant to encourage others to embrace their own, or explore a new concept they hadn't considered yet. We share things we've bravely done and hope that maybe our facing our fears encourages someone else out there to face their own. Sometimes we share something we've achieved because we're proud of it, and what the hell is actually wrong with doing something in this life that you're proud of, worked for, and want to celebrate?
Blogging is stupid because it's just people talking about their lives. But stand-up comics aren't stupid. Novelists and filmmakers who draw influences from personal experience aren't stupid. Motivational speakers aren't stupid. Athletes in post-game press conferences aren't stupid. Documentarians aren't stupid. Essayists aren't stupid. Musicians aren't stupid.
Blogging is amazing because sometimes, it's
just people talking about their lives
. It's a medium accessible to almost anyone, everywhere. It's a medium accessible for audiences large and small. Blogging doesn't require someone else's approval. Blogging is a tool for exploring new and old interests, meeting people who share those interests, and learning about a world different from your own. It's a tool for forming and building strong, important relationships that would otherwise not be possible due to limits of geography.
Blogging is amazing because people are amazing, interesting, insightful, compassionate, kind, funny, smart, intuitive, creative, clever, and passionate. Blogging is amazing because people who blog don't give a damn if someone who doesn't get it thinks it's stupid. We're not asking for your permission anyway.