What it's Like to Be a Runner in Winter
You wouldn't know it by reading a thermometer any day last week, but winter has arrived (technically...) here in New Jersey. Save for this bout of El Nino that's giving us record-high temps (literally 70º on Christmas Eve), the mercury is dropping and we outdoor running enthusiasts are doing our best to prepare.
Some people really hate winter workouts. I don't. I mean, I hate parts of them—mostly the part before I actually do them—but I hate parts of summer workouts too. But in the end, I have immense love for winter running. My first run ever was on December 26, and in the following months we all learned the words "polar vortex" and there was that one day I accidentally drove to work without gloves when it was a real-feel of -8º and I had to run my hands under warm water for three minutes just to get the feeling back in them. (But that's beside the point.)
Winter running is a unique experience, if you live anywhere that has a winter to speak of. I wrote about some of the
safety factors involved in winter running here
, but I thought today we'd have some fun. Because I'm determined to inspire you guys to keep on running out there during the cold months. And also because it's nearly New Year's Eve, and we've earned ourselves a gif-heavy, fun post to cap off the year, right? Right.
Before winter comes, when the awful memories of summer training are still stuck in your mind, you romanticize it. Ahhh, low humidity! Crisp, cool air! I'll feel like such a badass running with the elements this winter.
But then the temperature drops below 55º for the first time and you have to break out the layers
and cover your ears or else it feels like your head is going to implode
(seriously, how can a little cold air cause so much pain to the ears?!)
and that first warm-up lap is more dreadful than the first minute after you step out of the shower on a winter day.
But you settle into it. This is the new normal, at least for the next couple of months. Winter is here, and treadmills are basically worse than not running at all, so you make concessions and learn to embrace the pros and cons of outdoor winter running.
Like the peaceful quiet that only comes when you run after it's just snowed... (pro)
and the ice patches and yellow snow piles that have you dodging and weaving all over the sidewalks in town.... (con).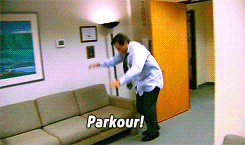 You warm up and your body temperature evens out and it's actually quite nice out there on the road.
And you sort of bounce along, feeling awesome about yourself, dominating that workout like the superior human specimen you are.
Finally, you clock all your miles and come inside, only to discover your home is actually the seventh layer of hell and you can't get your clothes off fast enough because WHY IS IT SO HOT IN HERE OH MY GOD OPEN A WINDOW OR SOMETHING, JEEZ.
And then as soon as you get out of that sweet, deliciously hot shower, you hate 30-minutes-ago-you for opening that window because HELLO IT'S WINTER OUT THERE, WHAT ARE YOU THINKING?
And then as soon as you regain the feeling in your toes, it's time to go out there and do it all over again. And it's a nightmare of its own sort, but at least it's not 95º with 90% humidity after sunset. (Never forget that... the heat will return.)
Here's to you, winter runners. Here's to us. Embrace the cold-weather run. Reap the rewards. And in all seriousness, stay safe out there! (Don't be that girl.)
_____________________________________
And that's a wrap on the last
Training for Tuesday
of 2015! Thank you all for joining us every month, linking up, sharing your stories, and spreading the love through this little network. Don't forget to check out
Tracy
's post today, link up below, and hop around to say hello to everyone else. See you in 2016 for a new year, new goals, new fitness endeavors, and new adventures!