Recent Reads Vol. 10 (+ Books For You!)
I only have two books to report on this month, because reading has not been my priority lately. (What has, you ask? Mainly
Seinfeld
on Hulu, if I'm totally honest.) Still, I wanted to come to the Show Us Your Books party and share these two reviews, plus a couple of books I want to give away.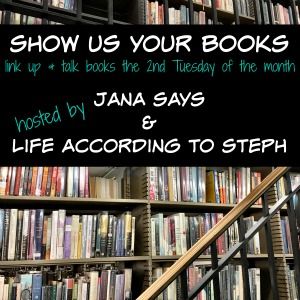 Eat, Pray, Love by Elizabeth Gilbert
I attempted to read this book some years ago—I assume on someone's recommendation, because I have no idea how I got the copy I've apparently owned forever and I know I didn't buy it. It didn't take the first time. After I read and loved and felt incredibly indebted to
Big Magic
, I decided to give it another shot because of how much BM made me respect and admire Elizabeth Gilbert. I blame the length of time it took me to read this one on my own laziness, not on the book itself. I love that I waited until some of the book's important features (including the 108 passages it's comprised of) made sense to me in my own life, thanks to my own spiritual journey of recent years.
Recommend? — If it sounds like something you'll like, you probably will. If it doesn't, you won't miss it.
Notorious RBG: The Life and Times of Ruth Bader Ginsberg by Irin Carmon and Shana Knizhnik
I was on the wait list for this from my library for a while but luckily got a hold of the audiobook. I devoured it. I've admired Supreme Court Justice Ruth Bader Ginsberg for years, but there was so much I still didn't know about not just her work but her personal history and the context surrounding her rise to the bench. You all know
I'm a feminist
(right?) but I do believe this is a must-read for any modern woman and man. There is so much about the wave of feminism that RBG slogged through and used to tear down injustice that you don't learn anywhere else but for an exploration of the intricacies of these cases. RBG is not only a bright and sharp legal mind, but a whip-smart strategist and champion of equality our generation owes a tremendous debt of gratitude to. It's a short audiobook, so do yourself the favor.
Recommend? — I really think everyone should learn more about this amazing lady. Go for it!
Oh, hey, attention down here: FREE(ish) BOOKS! I'm clearing off my shelves and I have a couple of books to give away. If you want any of the titles below, they're yours for the few bucks in shipping. Let me know!
The Color of Water
, James McBride
Summer
, Edith Wharton
Bodega Dreams
, Ernesto Quinonez
Suzanne's Diary for Nicholas
, James Patterson
Dona Flor and Her Two Husbands
, Jorge Amada
My Horizontal Life
, Chelsea Handler
Atonement
, Ian McEwan
The Summer We Read Gatsby
, Danielle Ganek
Dom Casmurro
, Machado de Assis
BUMPED
and
THUMPED
, Megan McCafferty
Emily Post on Entertaining
, Elizabeth L. Post
A History of Philosophy: Late Mediaeval and Renaissance Philosophy
, Frederick Copleston (I honestly have no idea how I came to own this...)
Summer
, Edith Wharton
Linking up with
Steph
and
Jana
. What have you been reading?